Bell Shoals Animal Hospital
Mon – Fri 8:00AM – 6:00PM
Saturday – By Appointment Only
High School Sweethearts Open New Animal Hospital in Brandon FL
Erin and John Ligori, Brandon residents, bought a farmhouse-style residence built in 2002 on Bell Shoals Road just south of Lithia-Pinecrest Road to convert it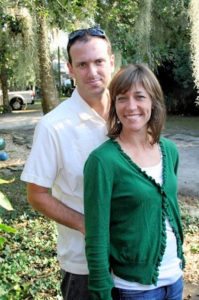 into a veterinary clinic, Bell Shoals Animal Hospital. They converted  this elegant custom-built house into an animal hospital, where cats are allowed to hop up on the kitchen counters – dogs too. This lovely Brandon animal hospital which opened in March 2009. The high school sweethearts graduated from Bloomingdale High School in the early 1990s and moved to Gainesville, where they both attended the University of Florida. Erin taught kindergarten in Ocala after she graduated from UF, while John continued his veterinary school training.
Brandon Is Home
 Life was good in Gainesville, Erin said, but they always knew Brandon would call them home. "As soon as John graduated in 2002, we moved right back," Erin said. "We have a lot of family and friends here, and we wanted to raise our sons where we grew up." Ligori went to work as an associate veterinarian at a clinic in St. Petersburg.
He said he always planned to open a practice in Brandon but wanted to wait until he and his wife found a singularly special site.
"The Brandon market is saturated with vets, so we knew it had to be something unique and different, and we spent years looking," he said.
He was skeptical when Erin told him about the house on Bell Shoals. "But as soon as I saw it, I knew this was what we were looking for." He admits it has been a leap of faith to follow through with his longtime plans to open a practice in Brandon. "But our chips are on the table and we're moving forward," he said. "There's a lot of uncertainty, but we're going to stay positive." "We're gonna make this work," said Erin, who will serve as the clinic's full-time administrative assistant after years of full time stay-at-home parenting.
Converting the House Into a Brandon Animal Hospital
 The couple's sons were eager to help their father plant trees on the property, one of a few minor modifications the county required to bring the residence up to commercial code standards, John said.
Erin said public areas of the clinic will be furnished with pleasing residential pieces. "We're not putting any office furniture in here," she said. "We don't want it to be your typical animal hospital. It just has a good, homey feeling."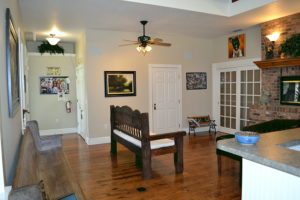 They also had to add a wheelchair ramp and outfit one bathroom with wheelchair-friendly features. Rocking chairs and benches are on order for the front porch, where customers and their pets may relax while waiting to be called into the waiting room, a former living room with an inviting brick fireplace and polished pine floors.
The former kitchen does duty as an exam room, where test tubes and microscopes will line the counters and pets will be examined on an island. Instead of cereal or canned goods, the kitchen cabinets will hold lab supplies, and the refrigerator will be stocked with vaccines.
Overhead lighting and tile floors were installed in a laundry room off the kitchen, now the clinic's surgical suite. What once was a master bedroom, now houses a dental cleaning table and X-ray machines.
A walk-in closet will be used as a darkroom to develop the film. John Ligori said they bought the house about a year ago when "things weren't quite so bad with the economy."
Veterinarian Gets to Enjoy Working in New Brandon Animal Hospital
 She said it already has been a lot of work getting ready to open, but she and her sons love having John around more often since he doesn't have to commute to St. Petersburg. Keeping close to one another and extended family members in the Brandon area is important to the couple, Erin said.
 The community has grown a lot since she was a child, but she said it still has a lot of sweet qualities. "We take our boys to the Fourth of July parade and other places we went when we were kids," she said, such as Campbell's Dairyland, Babe's Pizza and Medard Park.
"Brandon has all these quaint little areas that we still know about. I really like knowing the back roads."
BELL SHOALS ANIMAL HOSPITAL
 WHAT: Full service veterinary clinic/hos[iytal
WHERE: 1401 Bell Shoals Road, Brandon
HOURS: 8 a.m. to 6 p.m. weekdays
Saturdays – appointments only
Bell Shoals Animal Hospital
Bell Shoals Animal Hospital
Bell Shoals Animal Hospital [current_year_with_copyright_symbol_and_title]